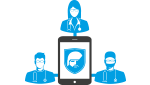 How do you handle a document that needs to be processed by two or more people in your organization? How do you allow other team members to access documents processed by another person?
ShieldQ for Healthcare makes it easy. Register for any ShieldQ document service, and start storing documents instantly, in your secured, centralized inbox.
The document management system makes it easy to define who can share, which documents to share, and how they can be shared: read, write or share, either manually or automatically, depending on your company policy.
Give it a try: register today for our free, 30-day trial and start sharing immediately.